Overview
Jagged Rocks
Parent Location:
Andalucia
Co-Ordinates:
(390,1134)
Difficulty:
Medium
Primary Zone:
Chaotic
Inhabitants:
Goblins, Trolls

Jagged Rocks is a mountainous peninsula located South-East of Cyrennica and directly East of DarkOak Forest (separated by a deep ravine). The area is comprised of clay and stone mountains that are wider but shorter than those found in the Deadpeaks. This was the first expansion to the original map, and most well-known as a mining area, with large amounts of Tier II and III ore near the entrance, and plenty of Tier IV and V ore further East. The region is also home to one of the most recognisable structures in Andalucia - the Crystalpeak tower. 
Lore
[WIP]
Zones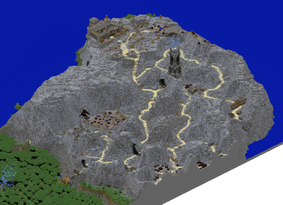 [WIP]
Settlements
[WIP]
Farming Information
[WIP]
Ad blocker interference detected!
Wikia is a free-to-use site that makes money from advertising. We have a modified experience for viewers using ad blockers

Wikia is not accessible if you've made further modifications. Remove the custom ad blocker rule(s) and the page will load as expected.