Spiders are not very common around andelucia, they hide away in darkness such as the depths of Dark Oak Forest and the Spider Cave in Jagged Rocks. They can found around other places being used as pets by the Goblins and Bandits!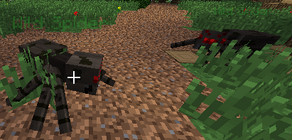 Locations
Spiders are found in only a select few places, one being the Dark Oak Forest, these spiders are from Tier 1 - Tier 2 with small groups of Tier 3 mobs. The other location that you will be able to find larger amounts of spider inhabitant will be the Spider Cave in Jagged Rocks, here the spiders range from Tier 1-Tier 3. The Spiders who guard the large entrance to the large underground mine are Tier 1 and Tier 2, then once you enter the mobs quickly turn to Tier 3 Cave Spiders and group up in there dozens to fight together. So make sure your prepared with high tier gear when entering the Mine!
Lore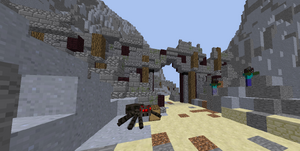 -They inhabit the a old miners cave, this could lead to them over running the save and forcing the villerages out of there mining village!-
-Not much were known about spiders besides the fact that the spiders in Jagged Rocks were trained by the orcs for their war against the goblins.-
Ad blocker interference detected!
Wikia is a free-to-use site that makes money from advertising. We have a modified experience for viewers using ad blockers

Wikia is not accessible if you've made further modifications. Remove the custom ad blocker rule(s) and the page will load as expected.